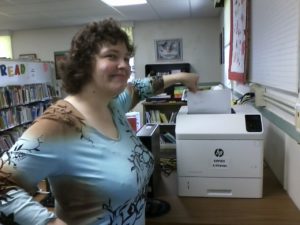 Shannon Donovan, Library Director, proudly displays the new laser printer received from "The Blossom Fund", a grant administered by the Chautauqua Region Community Foundation.  This new printer will be used not only by library staff and volunteers, but also by our patrons needing to print out items.
The Bemus Point Library continues to be the only location in the village where patrons can use computers free of charge; printing, copying, and faxing are also available for a nominal fee. Additionally, patrons can log on to our Wi-Fi network. Please see library staff or volunteers for more information about technology usage at the library.
New laser printer from "The Blossom Fund"!