We will be hosting Loren Mayshark for a discussion about his latest book, Academic Betrayal.  The book talk will be held here at the library on November 30 at 6:30.
Released in April 2017, Academic Betrayal poignantly describes the authors experience while in graduate school and present challenges that other students may encounter as they proceed through the higher education system in the US.  Mayshark shares that "Academic injustice and bullying are problems in the US. The system of higher education in this nation must be reformed. My situation in Graduate School was an extreme case, but one that will resonate with many current students, former students, and faculty. My newest book elucidates many of the problems in our system that tragically go unspoken."
For more information about this young author from Bemus Point, search him on Facebook: https://www.facebook.com/lorenmaysharkauthor/ or visit his website:  http://lorenmayshark.com/.
Please view our calendar for additional details about this event.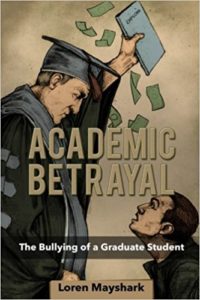 Book Talk: Loren Mayshark